---
[Davis Bamboo Main Page][Species and Price List][Bamboo Information]
---
Our bamboos are available for sale by appointment in Davis.
For further information or to set up an appointment please call or email us. We are experts at bamboo and spend a lot of time with our customers assisting them with making the best selection for their needs and providing expert advice on care and planting. In some cases we arrange for local delivery of plants and ship bamboo.
Contact Information: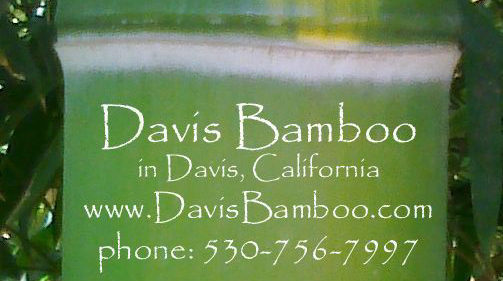 We have Email though we generally prefer you contact us via telephone, as above.
Email: Bamboo@DavisBamboo.com
(Email users please write "Davis Bamboo" in the email subject line)
We are run by longtime members of the Northern Californian Chapter of the American Bamboo Society. We have close connections with UC Davis and have been growing bamboo in Davis for over 10 years. One goal we have is to provide the best bamboos that exist for our climate so that they will grow well and look good year round. Our selection is by far the largest bamboo selection in Davis and within at least 50 miles of Davis. We can also provide most bamboos that exist in the United States via special order.
---
[Davis Bamboo Main Page][Species and Price List][Bamboo Information]
---