---
[Davis Bamboo Main Page][Species and Price List][Bamboo Information]
---
Our bamboo plants are available for sale by appointment in Davis. We keep 50+ varieties of bamboo in stock and ready for immediate purchase to residential and rural customers, landscapers, and plant nurseries. Other bamboo varieties are available via special order. Delivery of bamboo plants up to 16 feet tall is available at a rate of 95 cents per mile distance from Davis, California (as calculated by Google Maps). Plants taller than 16 feet may require an additional delivery surcharge. The minimum delivery fee is $20. The minimum bamboo purchase for which we will provide delivery is $250. Purchases of $1000 or more qualify for free delivery within 100 miles of Davis.

Contact Information: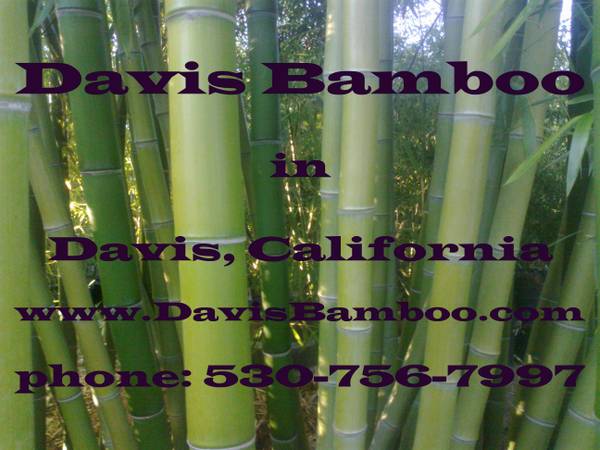 Each sale comes with planting advice. We are experts at growing bamboo and spend a lot of time with our customers assisting them with making the best selection for their needs and providing advice on care and planting. Sales are preceded by a phone call to Davis Bamboo to talk about the customer's needs. Appointments are scheduled via telephone. We take calls between 10 AM and 10 PM. We return calls from 10 AM to 8 PM. Customers are asked to come to their appointment on-time and with a vehicle capable of transporting the bamboo if they find a bamboo plant they like. Most of our 5 gallon nursery pots of bamboo can fit in a passanger car. 15 gallon sized plants or larger generally require a larger vehicle and an open bed pickup truck with a tarp and rope are recommended. Plant prices start at $10 and the available potted bamboo plants range in size from 1 foot to 40 feet tall.
We have Email though we prefer you contact us via telephone. We answer questions regarding availability of specific bamboo plants and their pricing via email. For questions about plant selection, planting, and maintenance please call.
Email: Bamboo@DavisBamboo.com
(Email users please write "Davis Bamboo" in the email subject line)
We are run by longtime members of the Northern Californian Chapter of the American Bamboo Society. We have close connections with UC Davis and have been growing bamboo in Davis for over 15 years. One goal we have is to provide the best bamboos that exist for our climate so that they will grow well and look good year round. Our selection is by far the largest bamboo selection in Davis and within at least 50 miles of Davis. We can also provide most bamboos that exist in the United States via special order.
---
[Davis Bamboo Main Page][Species and Price List][Bamboo Information]
---